Wagopakowarka do worków otwartych "Stojak"
A weighing and packaging machine for open bags, the so-called 'stand', is an appliance whose main task is to properly weigh and fill a bag. All additional operations (stitching, hot sealing, applying crepe tape, etc.) aiming at closing a bag must be performed on a separate station.
The weighing and packaging machine is intended for weighing and packing loose / granulated / powdery products. Depending on the type of product being packed, the following feeders can be used for proportioning:
Gravitational feeder
Screw feeder
Belt feeder
Vibrational feeder
The weighing unit in this appliance is located on the mouthpiece and at the time of proportioning a bag becomes a scale of the balance – this is the so-called gross scales.
The weighing and packaging machine can be extended with a bag closing unit with a leading-through tape – LPack packing unit.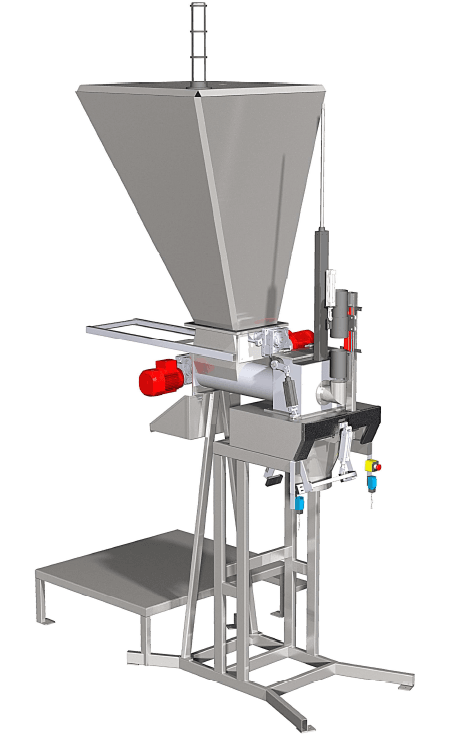 Basic subassemblies of the appliance:
Supporting structure
Electronic batching scales of the gross type
Feeder
Open mouthpiece
Clear control system based on PLC Siemens / Proface controller with a touch panel
Applied drives by recognised manufacturers
Optional equipment:
System for sucking out product in a bag
Filled bag vibration system
Feeder cleaning system
Balancing container located above the scales
Basic technical parameters:
Maximum batch weight: 50kg,
Minimum batch weight: 10kg,
Line capacity: up to 220 batches/hour (depending on the product characteristics and batch size),
Bag type: open bags, multilayer paper bags (up to 4 layers), envelope-shaped bottom bags without side folds are recommended, PE foil bags, PP polypropylene coated bags,
Bag width: 450 – 650mm,
Bag length: 600 – 1100mm
Power supply: 3 x 400V 50Hz,
Power requirement: max. 3kW,
Compressed air supply: 5 – 10bar,
Compressed air consumption: 100Nl