Line for filling PP and PE containers and cardboard boxes
Drewmax company is also a producer of lines for filling containers. Owing to our knowledge, experience and thanks to our construction team we were able to design and put into production lines for filling containers with any types of products automatically.
The presented line can pick up containers automatically, fill them with any product, weigh them, and then close them. The appliance constructed in such a manner allows to considerably save time necessary for packing products, as well as reduce the number of people needed to operate the machine to a single operator whose task it is to deliver and replenish the stock of containers as well as service the unit on an ongoing basis.
The feeder through which product is fed to a container is adjusted to the product qualities. It is possible to use the following types of feeders: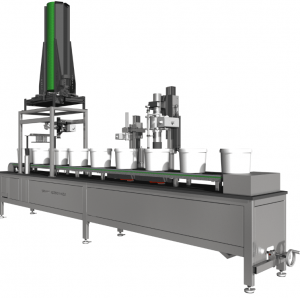 Feeder of liquid products (liquid filler nozzle)
Feeder of loose products (belt type, screw type, gravitational)
Feeder of pre-packed products (bags, cardboard boxes)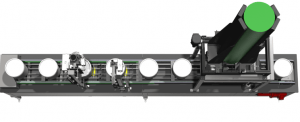 A robotised palletizing station may be used for collecting filled buckets, whereas in order to secure the load from moving, we recommend the use of the stretch hood machine – Drewmax has on offer the appliances of this kind as well.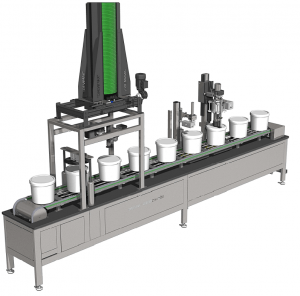 Basis subassemblies of the appliance:
Supporting structure
Bucket transporting device
Station for filling buckets with product
Scales
Clear control system based on PLC Siemens controller with a touch panel
Applied SEW or LENZE drives / servodrives
Optional equipment:·
System for placing lids
System for automatic adjustment to the lid size
System for closing containers tight
Collecting belt conveyor
Technical data of the line for filling rigid containers:
Maximum scales load: 30kg
Minimum batch size: 1kg
Scale interval: 10g at batch size of up to 30kg,
Lid dimensions: from 150mm to 330mm
Line capacity: about 1200 batches/hour
Power supply: 3 x 400V, 50Hz
Compressed air supply: 5.5 – 10bar