Big-Bag filling station – for single-handle bags.
Drewmax company has on offer an appliance for filling single-tap Big-Bag type bags with the weight from 100kg to 1500kg. The single-tap bags are filled with the use of properly selected feeders and net scales located above the filling spot.
The filling line combined with the net scales create a semi-automatic packing appliance for loose / granulated / powdery products with the use of Big-Bag type bags.
The presented machine is equipped with a mobile filling connection pipe thanks to which placing and taking off a bag is considerably facilitated. Additionally, the automatic tightening system and the system for filling bags with the airflow make operators' work much easier.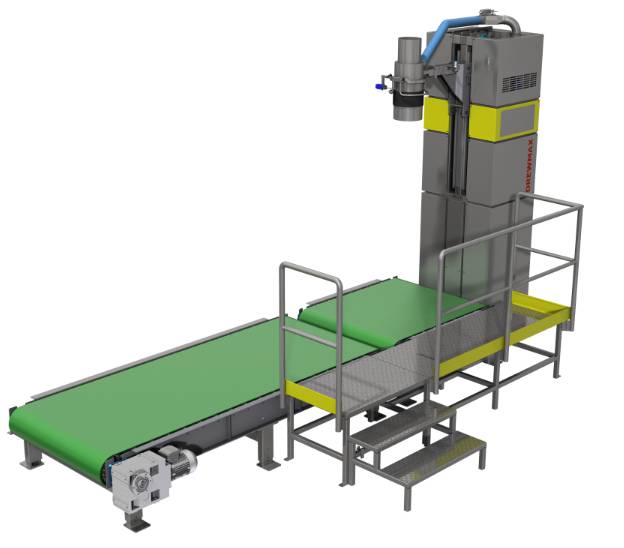 Basic subassemblies of the appliance:
Supporting structure with a service platform
Automatic mouthpiece
Collecting belt conveyor
Control system with a touch panel
Clear Control system based on Siemens PLC controller with a touch panel
Applied SEW or LENZE drives / servodrives
Optional equipment:
Filled bag vibration system
System for filling bags with the airflow
System for holding a bag during filling
Additional balancing conveyor
System for preparation to bag collection
Basic technical parameters:
Maximum batch weight: 1500kg,
Maximum batch weight: 100kg,
Line capacity: about 30t/h batches/hour (depending on product characteristics, machine operator and batch size),
Bag type: polypropylene Big-Bag single-tap type bags
Power supply: 3 x 400V 50Hz,
Power requirement: max. 5kW,
Compressed air supply: 5 – 10bar,