Nowość w ofercie – Linie pakujące BASIC Line
NOWOŚĆ LINIE PAKUJĄCE BASIC
NOWOŚĆ LINIE PAKUJĄCE BASIC
Obserwując rynek, a także mając na uwadze gasnący proces dofinansowań ze środków Unii europejskiej do inwestycji, nasza firma wprowadziła na rynek serię automatycznych maszyn pakujących BASIC Line. BASIC Line dotyczy maszyn pakujących produkty w worki o masie od 5 do 50 kg.
Rodzaj opakowań, jaki można użyć w tego typu liniach, to papier lub folia, lub papier z wkładką foliową. Linie te charakteryzują się niższym kosztem produkcji, a zatem klient końcowy otrzyma produkt tańszy o ok. 20% od linii standardowych. Wiąże się to ze zmniejszoną wydajnością również o ok. 20% w stosunku do standardowych linii oraz brakiem możliwości podniesienia wydajności poprzez rozbudowę linii, co jest możliwe w przypadku urządzeń standardowych.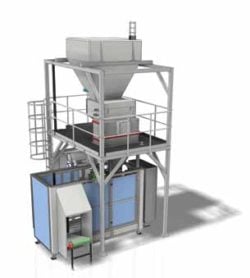 NOWOŚĆ LINIE PAKUJĄCE BASIC
Linie Basic Line znajdą zastosowanie w instalacjach niewymagających dużej wydajności do 320 porcji na godzinę. Linie automatyczne BASIC Line z czasem powinny wyprzeć półautomatyczne urządzenia ważąco-pakujące, ponieważ do ich obsługi potrzebna jest jedna osoba, natomiast urządzenia półautomatyczne obsługiwane są zazwyczaj przez dwie osoby. W obecnych czasach, gdzie ciężko jest znaleźć pracowników na jakiekolwiek stanowiska, taka oszczędność jest nieoceniona, a relatywnie niska cena urządzenia automatycznego może zwrócić się po około 2 latach, biorąc pod uwagę koszt obsługi dwuosobowej linii półautomatycznej w stosunku do obsługi jednoosobowej BASIC Line. Kolejnym rozwiązaniem wpływającym na oszczędności w obszarze zakupu maszyn są zautomatyzowane stanowiska paletyzacji, także wykonane w wersji BASIC Line. Takie stanowiska oparte są na typowych elementach, takich jak robot przemysłowy czteroosiowy, przenośnik podający produkt, miejsce do ułożenia palety czy ogrodzenie ochronne. Stanowisko pozbawione jest magazynu palet, przenośników rolkowych i owijarki palet. Takie rozwiązanie powoduje, że stanowisko paletyzacji BASIC Line jest stosunkowo tanie, lecz jego obsługa jest bardziej wymagająca, tzn. palety puste i napełnione mogą być odbierane tylko w sposób ręczny, po wcześniejszym odryglowaniu ogrodzenia ochronnego.

BASIC Line spowoduje, że klienci niemający możliwości skorzystania z różnego rodzaju dotacji oraz klienci, którzy do tej pory mogli pozwolić sobie jedynie na zakup maszyn półautomatycznych, a także tacy, którzy nie potrzebują wysoko wydajnych maszyn pakujących, będą mieli możliwość zakupu zautomatyzowanych stanowisk pakująco-paletyzujących w relatywnie niskich kwotach. Świat dąży do automatyzacji, a braki odpowiednich pracowników powodują, że te zmiany muszą nastąpić szybko – to w tym obszarze linie BASIC Line znajdą swoje zastosowanie.