Form-Fill-Seal (FFS) automatic weighing and packaging line type 2aWPP
The weighing and packaging line for bags made of plain foil is one of the novelties introduced by Drewmax company in 2014.
The weighing and packaging line of the 2aWPP type is an appliance intended for packing loose / granulated / dusty  products into foil bags. The appliance can be configured arbitrarily which provides an opportunity for shaping a bag in any manner – the Customer is free to decide whether a bag should be shaped with a double-sided fold (upper and lower) or without a fold.
The presented line can be equipped with one, two or three scales hoppers which are alternately filled by the suitably selected feeders. Owing to such combination of subassemblies, we were able to obtain high precision of weighing, as well as considerable efficiency reaching up to 1100 batches per hour.
The appliance is equipped with a simple foil shaping flange exchange system which allows to change the size of a container quickly. Moreover, the line has an electrical system facilitating the exchange of a roller with foil, owing to which the operator is able to mount a new roller with foil, whose weight can reach up to 750kg and whose diameter can amount up to 800mm, on the machine without the use of a forklift. Such a solution increases the efficiency of the machine and eliminates unnecessary down-time in its operation.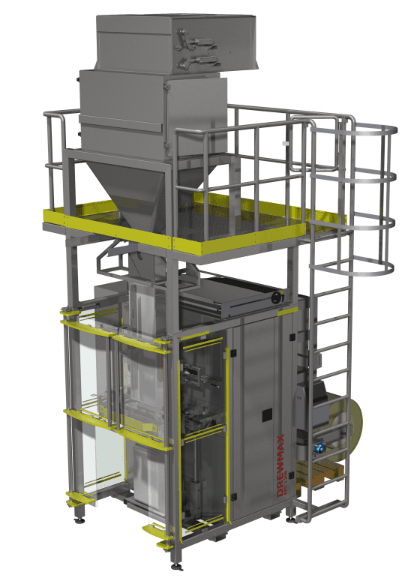 Basic subassemblies of the appliance:
Line supporting structure
Shaping flange
Electronic batching scales of the net type – 2 pieces
Feeder – 2 pieces
Closed mouthpiece
Continuity sensor
Impulse sealing unit horizontal / vertical
Belt conveyor collecting bags with a system for overturning bags
Clear control system based on Siemens PLC controller with a touch panel
Applied SEW or LENZE drives / servodrives
Optional equipment:
Service platform
Balancing container located above the scales
Filled bag vibration system
Feeder cleaning system
Impulse or continuously heated sealing unit
Ink / thermal transfer printer
Packaging perforation
Basic technical parameters:
Maximum batch weight: 50kg,
Minimum batch weight: 10kg,
Line capacity: up to 1100 batches/hour (depending on the product characteristics and batch size),
Bag type: PE foil bags –  flat foil – roller,
Bag width: 350 – 650mm,
Bag length: 450 – 1000mm
Power supply: 3 x 400V 50Hz,
Power requirement: max. 6kW,
Compressed air supply: 5 – 10bar,
Compressed air consumption: 600Nl