In 2013, Drewmax company introduced to the market a new appliance for protecting pallet loads and thus became one of just a few companies on the Polish market which are producers of these appliances. Since the beginning of production, our company has installed a few of the presented machines, especially in the coal and artificial fertilizers industries.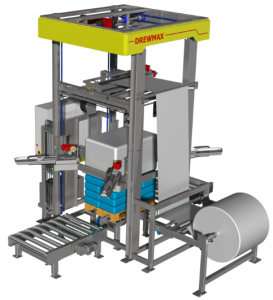 The MK-1000 machine displays a whole range of advantages that make it a much better choice than foil wrappers popular on our market.
Basic advantages:
Easy and fast fitting of a roller with foil
Adjustable level of the upper case
Precise hydraulic system of foil stretching
Capacity up to 90 loads/hour
Automatic measurement of load height
Stretching foil precisely on the basis of a pallet
Possibility to apply foil with the company logo
Full protection of loads against water and, when suitable foil is applied,  against UV radiation as well.
Basic subassemblies of the appliance:
Supporting structure of the machine
Roller conveyors (in-coming, out-going)
Automatic system for load height measurement
Hydraulic system for foil stretching
Clear control system based on PLC Siemens controller with a touch panel
Applied SEW or LENZE drives / servodrives
Basic technical parameters:
Pallet dimensions – 800x1200mm, 1000×12000,
Maximum height of load with a palette – 2100mm,
Capacity up to 90 pallets/hour (depending on the selected machine model and height of the packed product),
Installed power: 12kW,
Supply voltage: 3x400V; 50Hz,
Air supply: 6 – 10bar
Air consumption: about 100Nl/min
hydraulic pressure: 90bar
Working hydraulic pressure: 15-90bar